Silk Flowers 2020
Silk Flowers: A Public Art Exhibition
October 26 – November 16, 2020
Walking Reception: October 28, 2020 (mask required, keep 6ft. distance) 4:30 – 6:30 PM
Special Film Screening of Boys State: October 29, 2020 at Mansfield Drive-In, 8 PM, Free & Open to the Public, register here
Curated by Luke Seward
Contemporary Art Galleries is pleased to present Silk Flowers, a public art exhibition taking place in vacant garden beds along the Fairfield Way walking path on the University of Connecticut's Storrs Campus. This path is the main thoroughfare reserved for student foot traffic, connecting important sources of campus life and cultural knowledge including the Student Union, Homer Babbidge Library, Thomas J. Dodd Research Center, and the William Benton Museum of Art.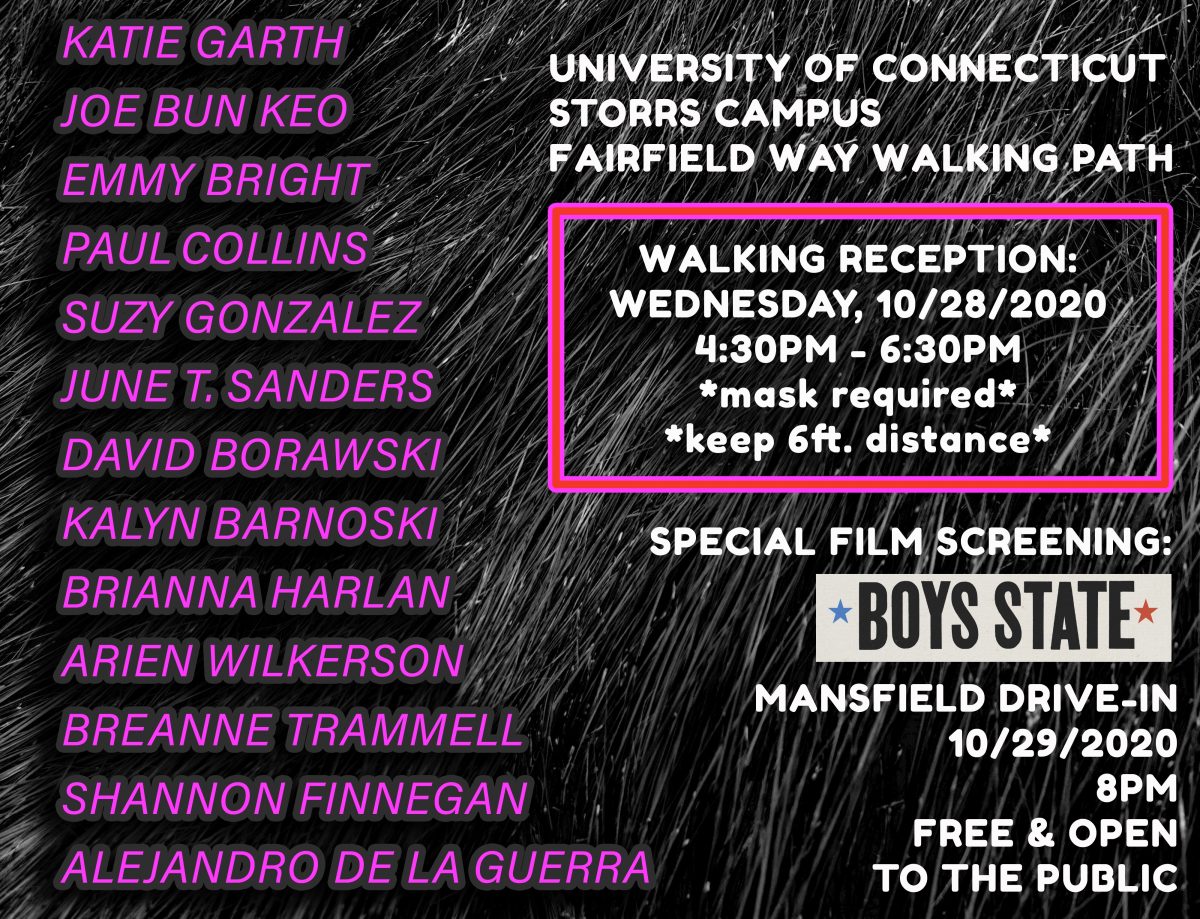 The thirteen artists included in this exhibition utilize the platform of the political yard sign as means of both visibility and creative communication in a landscape currently filled with visual repetition. While yard signage has traditionally been used as a marketing tool to aid in name recognition, Silk Flowers invites viewers to consider the complexities of policy, visibility and representation in relation to the upcoming election. These works are less persuasive and more demonstrative, occupying a state of solidarity, or encouragement, rather than serving as simple visual polarity.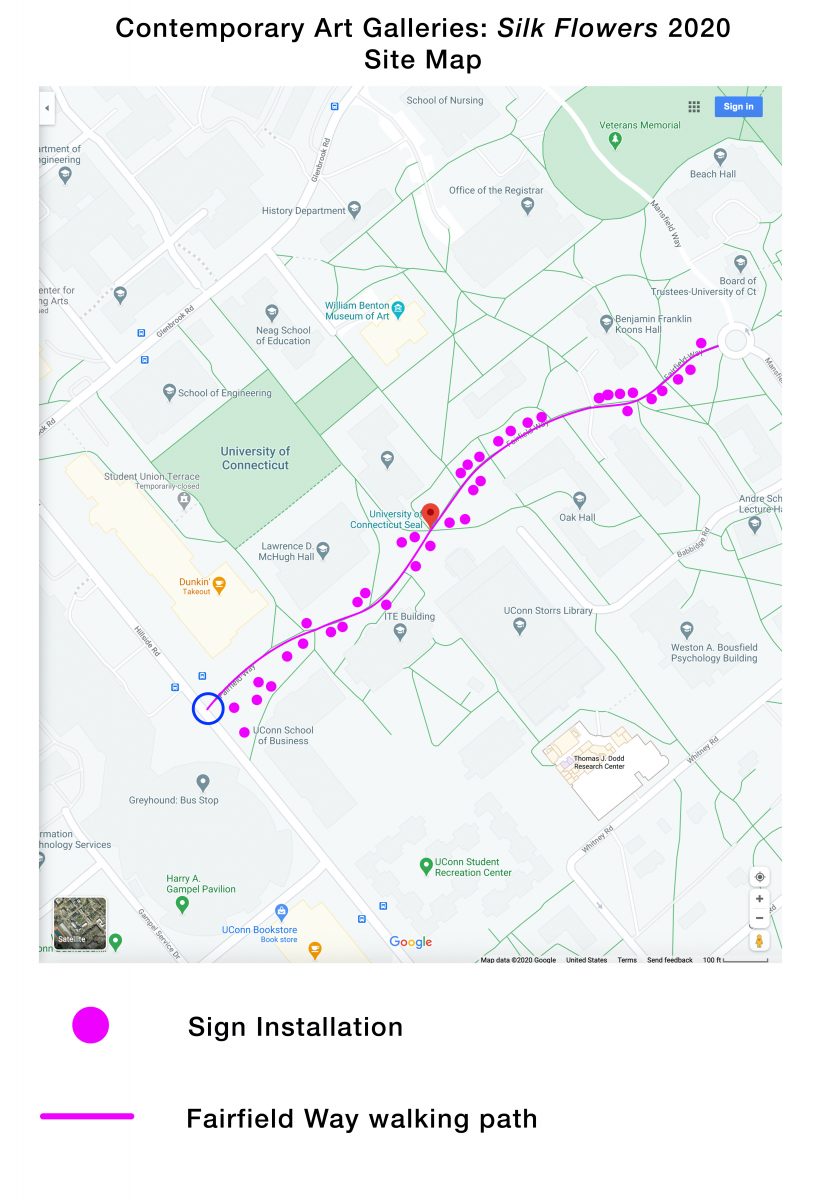 Participating Artists:
---
In conjunction with the public art exhibition Silk Flowers, Contemporary Art Galleries at the University of Connecticut has partnered with the Mansfield Drive-In to bring you a special screening of Boys State, an Apple Original Films and A24 release. The screening will take place on Thursday, October 29th 2020 at 8pm. This event is free and open to the public, reservations are required and can be made online – space is limited.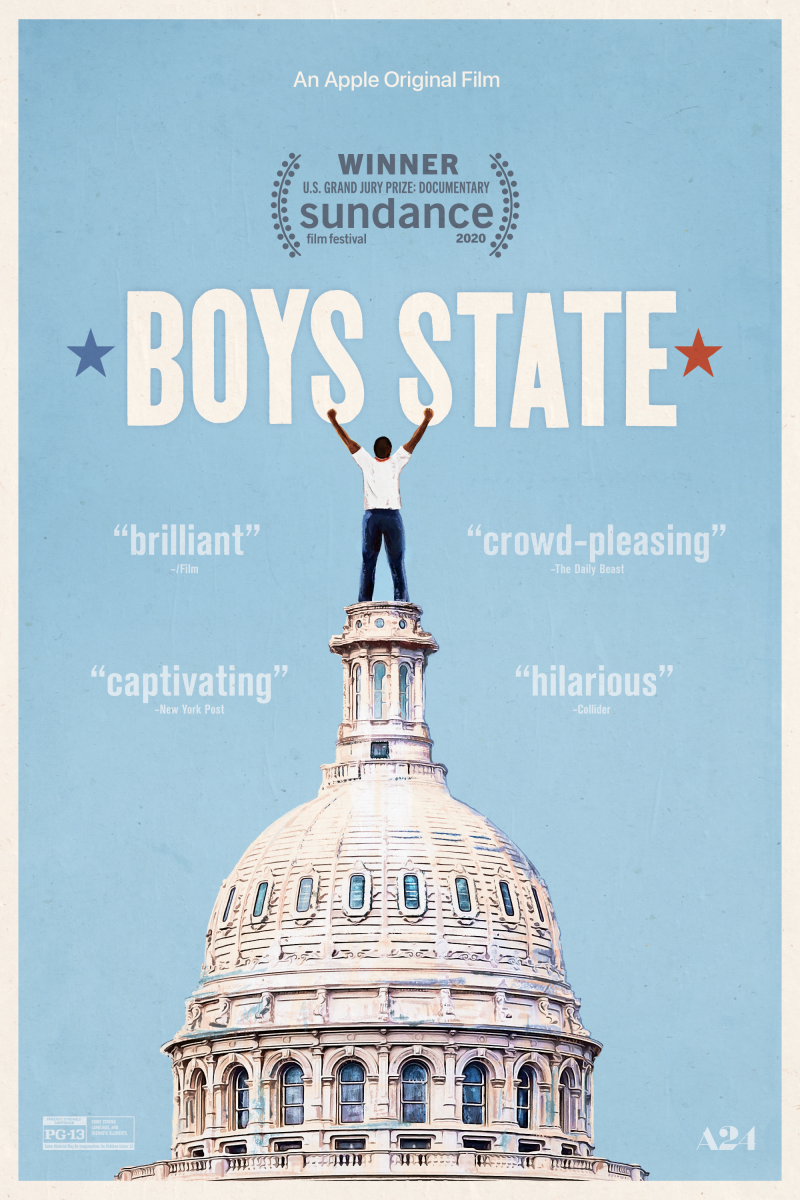 The sensational winner of the Grand Jury Prize for documentary at this year's Sundance Film Festival, Boys State is a wildly entertaining and continually revealing immersion into a week-long annual program in which a thousand Texas high school seniors gather for an elaborate mock exercise: building their own state government. Filmmakers Jesse Moss and Amanda McBaine closely track the escalating tensions that arise within a particularly riveting gubernatorial race, training their cameras on unforgettable teenagers like Ben, a Reagan-loving arch-conservative who brims with confidence despite personal setbacks, and Steven, a progressive-minded child of Mexican immigrants who stands by his convictions amidst the sea of red. In the process, they have created a complex portrait of contemporary American masculinity, as well as a microcosm of our often dispiriting national political divisions that nevertheless manages to plant seeds of hope. View the trailer here.
Contemporary Art Galleries encourages you to vote on election day: November 3rd, 2020
---
CAG and the UConn Library have collaborated to put together a curated library guide that serves as a resource for overarching themes present in 
Silk Flowers
. This guide traverses important topics related to Black Lives Matter, LGBTQIA Studies, Human Rights, the History of Protest and the History of Voting in the United States. The guide also contains links including
factcheck.org
and
knowyourvote.io
that can be utilized to make informed decisions about who you're voting for and the values held by running candidates. Lastly, content from the UConn Archives and Special Collections have been selected to provide insight into the history of student politics on UConn's campus. The library guide can be accessed
here
.
UConn's Political Engagement program invites you to attend a virtual panel, Everything on the November 3rd Election, including congressman Joe Courtney, Dr. Thomas Hayes, and Dr. Davita Glasberg on Friday Oct 30th at 4 PM. Click here to RSVP.
---
Exhibition coverage by the Hartford Courant can be seen here