Alejandro de la Guerra
Occupy My Words
Camping tents, spray paint, LED lights
Dimension Variable
2020
Statement
This installation is about censorship, self-censorship, and anti-censorship with an aesthetic reference to the "occupy Wall Street" movement.
It picks up some topics that could be subjects of debate or open conversations but that in times of pandemic can become sensitive but important, especially surprising that they become taboo in a place where there are supposed to be freedoms; the house, the university, the country. Made possible with support of the Artist Protection Fund (APF), and the Human Rights Instituto, El Instituto at UConn.
Words have history and memory in these tents, but the layers of paint that cover the words evidence the attempt at censorship as the important element of the painting itself, which between each layer of color and light at the night, reflects and endures.
Bio:
Alejandro De La Guerra 1986 (Managua, Nicaragua) is an interdisciplinary artist, educator, performer and poet. He is also the drummer for the experimental group, Somoto Blues Band (SBB). Alejandro is currently an Artist in Residence Fellow in the Human Rights Institute & El Instituto at the University of Connecticut with support from the Artists Protection Fund (APF)
Website:
https://www.alejandrodelaguerra.com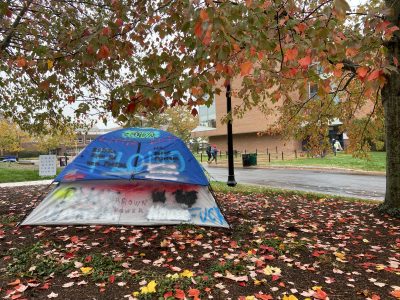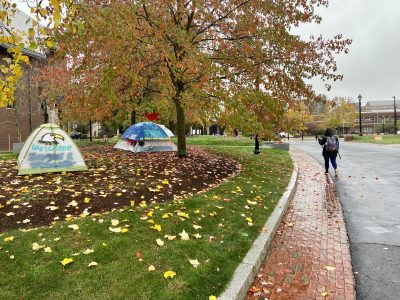 ---