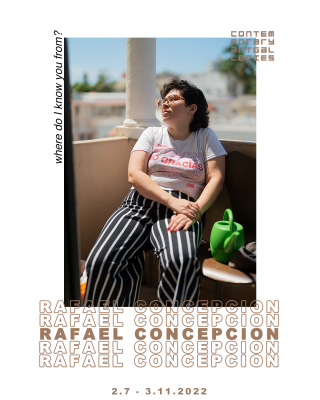 UConn Contemporary Art Galleries Presents:
Rafael Concepcion
Where do I know you from?
2/7/2022 – 3/11/2022
Artist Talk 2/23/2022 @ 6pm EST
Contemporary Art Galleries is pleased to present a photographic exhibition by Puerto Rican photographer Rafael Concepcion. The title of the exhibition, Where do I know you from?, references Concepcion's relationship to Puerto Rico as a site of familiar origin first experienced through photographs and objects. Concepcion's photographs position the camera as an archaeological tool for building connections through the documentation of material culture. Concepcion illustrates his relationship through portraits, landscapes and found still life scenes culminating in a rich archive of multicultural identity. Concepcion states, " These pictures were made across multiple trips to Puerto Rico since that first endeavor, and through the implementation of visual motifs regarding wonderment, isolation, and personal history, they are an interpretation of my experience as a half Puerto Rican person, attempting to ground myself in a foreign place of familial and emotional significance."
Rafael Concepcion (born in Danbury, Connecticut, 1993) is an artist whose work primarily deals with intersections between personal history and human behavior. His interest in photography as a primary medium stems from his curiosity with the concepts of chance and impulse. Stepping outside of the more didactic characteristics of photography, he uses his camera to delve into an emotional space that allows him the opportunity to thoroughly review facets of his day-to-day life that he might not have taken into account without a photograph. The same way a writer uses their diary, he uses photography as a means of recalling events, and using its transformative abilities to shape the way he remembers those instances in the images.
*We are currently operating by appointment only, to book your visit please email Director Luke Seward at luke.seward@uconn.edu