September 16, 2019 to September 27, 2019
Theatrical Performances Dates & Times
Wednesday, September 18 @ 8pm
Thursday, September 19 @ 8pm
Friday, September 20 @ 8pm
Saturday, September 21 @ 2pm & 8pm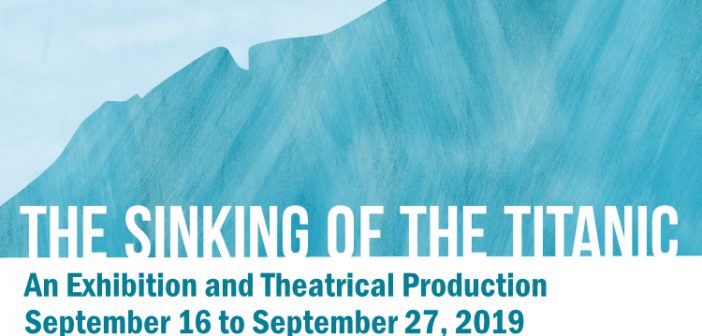 The Sinking of the Titanic is a stage adaptation of the epic poem by East German poet/essayist Hans Magnus Enzenberger. Adapted by Mona Heinze and James Magruder, it was first staged at the Yale School of Drama in 1987.
The Contemporary Art Galleries production is directed by UConn Professor Michael Chybowski and features costumes design by Brittny Mahan. The Sinking of the Titanic is a moving meditation on loss — of one's youth, of the aspirations of a culture, of society, and eventually life itself. How is it possible to go on in the face of such things? There is an answer, and this is what the performance tries to leave us with.
The exhibition's installation will be comprised of a large screen video montage, photographic works and displayed costumes. The actors in The Sinking of the Titanic are Department of Dramatic Arts students and integral to the dramatic effect of the production – the audience and performers together reside "inside the iceberg".
About Hans Magnus Enzenberger
Hans Enzensberger is a German translator, editor, author, and poet. Born in Bavaria, he was just 15 years old when the Third Reich collapsed. After studying German literature, philosophy, and language at the universities of Erlangen, Freiburg, and Hamburg, Enzensberger earned his doctorate at the Sorbonne in Paris. Enzensberger writes in both English and German. In addition to novels, he has written more than five volumes of poetry, including collections for children. Poet Charles Simic, quoted in the Guardian, praised the large scope of Enzensberger's writing: "[H]e has the largest range of subject matter, employs a variety of styles.… Almost every one of his poems, be they lyric, dramatic or narrative, has a polemical quality."
His various awards and honors include the Georg Büchner Prize, the Heinrich-Böll Prize, and the 2002 Prince of Asturias Award for Communications and Humanities. In 2009, he received a Griffin Poetry Prize Lifetime Recognition Award. Poet and Griffin trustee Carolyn Forché noted the precision of Enzensberger's diction and style, describing it as a "lively and cornucopious."
Enzensberger has been the editor of the book series Die Andere Bibliothek since 1985. He lives in Munich.
About Michael Chybowski
Chybowski has received the American Theatre Wing Design Award, an Obie Award for Sustained Excellence, two Lucille Lortel Awards for his work in New York, and a Drama Desk nomination for his work on the original production of Wit, the Pulitzer Prize winning play at the Union Square Theatre in New York. he also designed the subsequent US National Tour and its London West End productions.