Protests, Proclamations, and Celebrations consists of four two-weeks solo exhibitions, taking place consecutively. Two of the artists were born in China, Shen Xin lives in London and Amsterdam while Zou Zhao shares her time between Singapore and New York. Christian Falsnaes was born in Copenhagen and today resides in Berlin and Sharon Hayes is a professor at U-Penn. In appearance and aesthetic sensibility, they're quite different people, yet their work shows commonality in their use of live performance documented through video installation.
Their actions are intended to elicit audience reactions such as euphoria and political awakening achieved through seminar sessions, singing and didactic recitations aimed at persuasion.
Shen Xix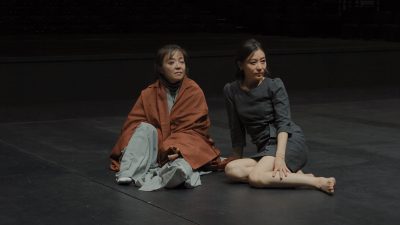 Shen Xin lives and works in London. Shen's practice engages with video and performance, examining the techniques and effects of how emotion and judgment circulate through individual and collective subjects. By focusing on interpersonal complexity and political narratives, her films often aim to generate reflexiveness to dismantle dominant power structures.
Shen Xin was born in Chengdu, China and currently is living and working in London and Amsterdam. She graduated from La Salle College of the Arts in Singapore and earned her MFA from the Slade School of Fine Art in London.
February 7th Shen Xin will participate in an Artist Talk hosted at the Konover Auditoriam in The Dodd Center from 9 a.m. until 11 a.m.
---
Sharon Hayes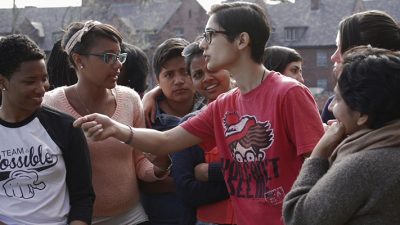 Sharon Hayes addresses ideas of romantic love, queer theory, activism, and politics. Incorporating recordings, speeches, songs, and letters along with her own writing, she describes her practice as "a series of performatives rather than performance". Hayes produces multi-channel video installations and delivers political texts on-the-street recitations as a means of investigating the intersections between history, politics and speech. Her interest lies in developing new representational strategies that examine and interrogate the present political moment, while simultaneously reaching backward and forward.
Hayes studied anthropology at Bowdoin College in Brunswick, Maine, and performance art at the Trinity/LaMama Performing Arts Program in New York in the early 1990s. She participated in the Independent Study Program at the Whitney Museum of American Art from 1999 to 2000, and received an MFA in interdisciplinary studies from the University of California, Los Angeles in 2003. She is an Associate Professor of Fine Arts at the University of Pennsylvania.
An opening reception for Sharon Hayes will be hosted on Monday, February 25th from 5 p.m. until 7 p.m.
---
Zou Zhao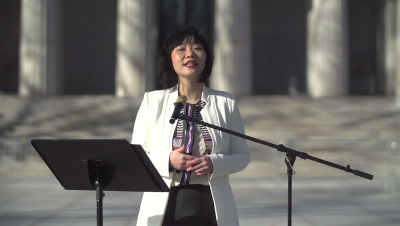 Zou Zhao is involved with video, performance, and writing, and has taken to task an examination of colonial legacy through the materiality of voice. Zou's work questions perceived notions of 'autonomy' within language, especially the neo-colonial role of the English language in the distribution on knowledge. Zou Zhao credits her interest in utilizing her voice and language as art content as the direct result of living as a member of the Chinese diaspora in various cities. She states, "Through the materiality of the voice, I'd like to direct focus on the performativity of language: an important, albeit often neglected, element in the field of visual arts."
Zhao was born Fujian, China, and at age six emigrated with her parents to Singapore. Raised there, she completed her formal education in London, first at the Slade School of Fine Art (BA) followed by a Master's degree in Contemporary Art Theory from Goldsmiths, University of London. Subsequently she earned an MFA from Columbia University, in New York City.
An opening reception for Zou Zhao will be hosted on Monday, April 1st from 5 p.m. until 7 p.m.
---
Christian Falsnaes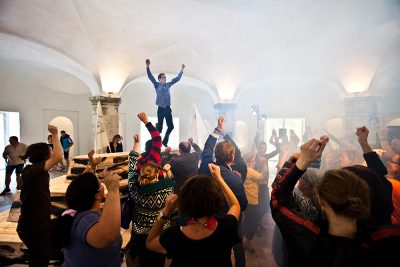 Christian Falsnaes uses performance to elicit group reactions, generating material from within audiences. Directing viewers to give up control, Falsnaes disrupts established social dynamics and facilitates unforeseen reactions from the crowd. His aesthetic goal is to embolden onlookers through active participation "to cross personal boundaries, overcome them and feel the moment of liberation and change."
Born in Copenhagen in 1980, Christian Falsnaes currently resides in Berlin. His earliest projects weren't exhibited in Copenhagen's art galleries, but spray-painted on the walls and trains throughout the city. Falsnaes' previous life as a street artist has been a driving force in his transition to performance art. Falsnaes attended the Vienna Academy of Fine Arts from 2005-2011 and was a recipient of the H13 Prize for Performance (2008), the Preis der Nationalgalerie (2015), and the ISCP residency (2016).
An opening reception for Christian Falsnaes will be hosted on Monday, April 22nd from 5 p.m. until 7 p.m.

Shen Xin: January 28 – February 8
Sharon Hayes: February 25 – March 8
Zou Zhao: April 1 – April 12
Christian Falsnaes: April 22 – May 3