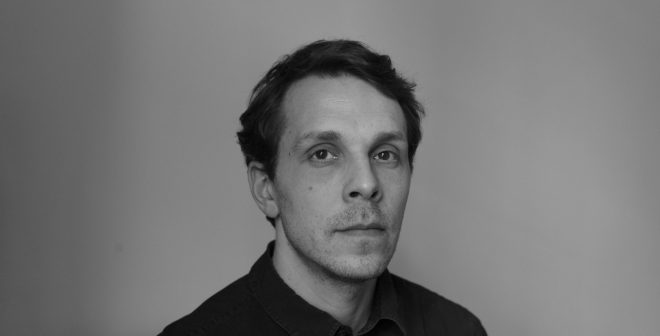 April 2 – May 4, 2018
2017 – 2018 Raymond and Beverly Sackler Artist-in-Resident
Ruscica aims to probe the spaces that disconnect various art forms. As a result, one finds a multifaceted inquiry into these interim spaces and their underlying commonality.
Using a variety of mediums – wood cut, sound, video, performance, photography and sculpture – his practice investigates the ties between interpretation and representation, collapsing boundaries of matter, language and meaning. Fold in and Fall Flat presents a similar kind of complexity and creativity, paired with a high level of challenge.
UConn's renowned Puppetry Arts Program manufactured a 4-foot tall wooden puppet created to mirror the artists' likeness. Activating the puppet requires three puppeteers, and is paired with a CGI rendition of the artist in the gallery space. The interaction explores different materialities as embodied by the two matching figures; their presence and their movements. While at UConn, Ruscica also collaborated with the university's Counterproof Press in the making of a new suite of wood cuts, as part of an ongoing series based on anthropomorphic fonts.
States Ruscica, "Fold in and Fall Flat" will focus on presence and physicality, how one carries one's body and the minutiae of gestures that go with that… Also, the different uses of gravity and a body's capacity to acquire form will become tangible. These two representations of the same body in space, the puppet and CGI avatar, will engage with the space independently from one another, yet maintain a direct dialogue with each other through eye contact"
The Contemporary Art Galleries offers special thanks to:
Professor Bart Roccoberton and his Puppetry Arts graduate students for having manufactured the puppet.
CAG is also appreciative of UConn's Counterproof Press for its financial support and for the production of a set of limited edition prints.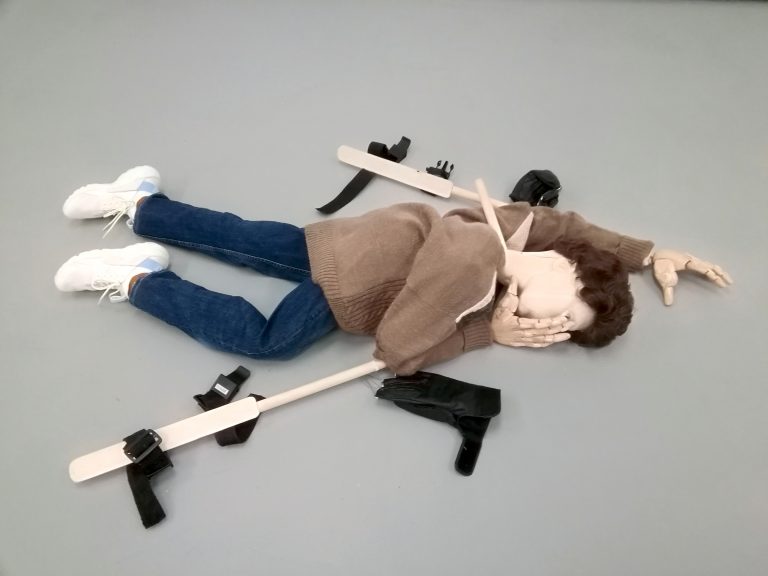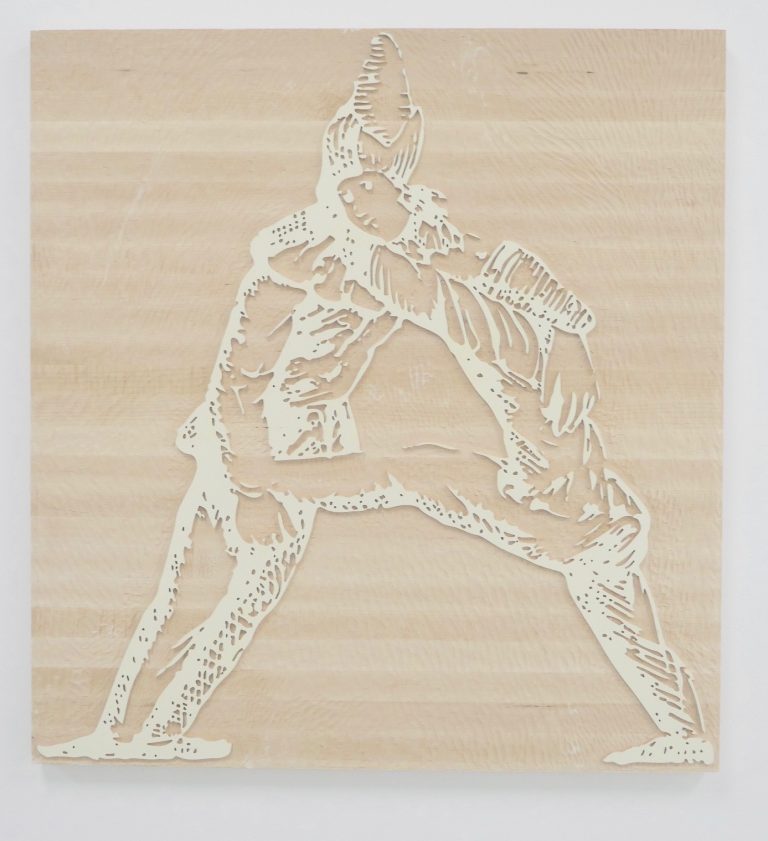 Jani Ruscica (Savonlinna, 1978) has held solo exhibitions at Galerie Anhava in Helsinki, CIRCA Projects in Newcastle, Suburban PS in Rotterdam and the Otto Zoo Gallery in Milan, among other venues. Jani Ruscica's works have been recently shown in several international exhibitions and festivals, including MACRO at the Museo d'Arte Contemporanea in Rome, K11 Art Space in Shanghai, the 5th Momentum Biennial in Moss, Norway, the 7th European Photography Festival in Reggio, the 6th Liverpool Biennial and Bonniers Konsthall in Stockholm, and in video screenings at the Centre Pompidou in Paris, the TATE Modern in London and MoMA in New York. A new public work of art has been commissioned from Ruscica by the Helsinki Art Museum for the Helsinki City Centre Library currently under construction. The work will be unveiled in December 2018.

Fold in and Fall Flat, 2018, installation view and performance documentation: