January 26 – March 10, 2017
The Contemporary Art Galleries will present an exhibition of artworks including paintings, prints and videos by Texas-based artists Suzy Gonzalez and Michael Menchaca. Prior to the artists' reception, Gonzalez and Menchaca will present a public talk on their artwork at 5pm in UConn's Art Building. This event is open to the public, and free of charge.
Gonzalez and Menchaca will be on the Storrs Campus from January 25 through January 30, making fine art prints with UConn's Counterproof Press, a collaborative venture between the Department of Art and Art History and the Creative Writing Program in the College of Liberal Arts and Sciences.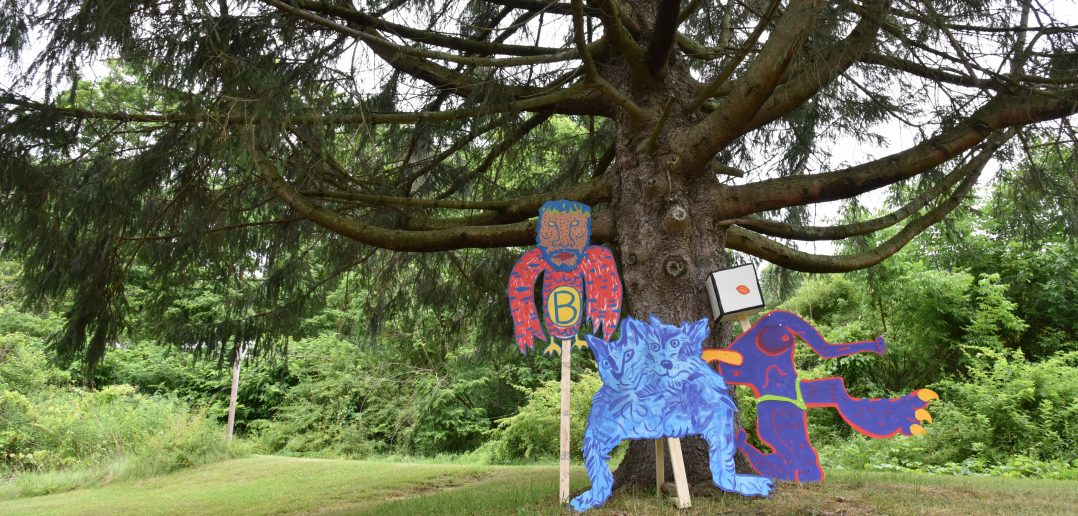 Mestizx Nation embodies a utopic world, where, despite the changes to come, we can always celebrate the victory of solidarity and a diverse populous. As Chicana scholar Gloria Anzaldua wrote, "The mestizos who were genetically equipped to survive small pox, measles, and typhus, founded a new hybrid race and inherited Central and South America. In 1521, nació una nueva raza, el mestizo, el mexicano (people of mixed Indian and Spanish blood), a race that had never existed before. Chicanos, Mexican-Americans, are the offspring of those first matings."1 Our title includes the underline that is used when a word is spelled incorrectly, and we see this as a distinct symbol for colonization, domination, and a desired language purity. Yes, Mestizx can be defined as Mexican-American, but for us, it means more. The literal translation of mestizo is "mixed." While embracing a hybrid character aesthetic, we recognize that we are all mixed. There is no being that embodies a pureness of race, gender, or species because we each hold so much complexity. Don Adams and Arlene Goldbard describe the community/quality dichotomy by analyzing that some "community artists reject end products they consider too slickly produced…From this perspective, a homemade or "folk" aesthetic seems most in keeping with community-based work, because it presents no barriers to comprehension, carries no off-putting social codes: community productions should look funky and approachable or else they risk looking too intimidating."2 This mixing of a folk art visual within a white walled contemporary art space is of constant interest. Topics of identity can often be easily othered, so for us, playful means approachable. – Suzy Gonzalez
1 Anzaldua, Gloria. Borderlands/ La Frontera: The New Mestiza. San Francisco: Aunt Lute, 1999. 27. Print.
2 Adams, Don, and Arlene Goldbard. Creative Community: The Art of Cultural Development. New York, NY: Rockefeller Foundation, Creativity & Culture Division, 2001. 23. Print.
Gonzalez says of her current work,
"With a socially engaged framework, my work is a study of the treatment of beings based on one's race, gender, and species. Through the lens of ecofeminism, I search for similarities between marginalized groups of people and that of animals and the earth, longing to regain these intuitive connections. I find interest in the decolonization of one's diet, or a desire to return to the plant-based nourishment of our ancestors. The work contemplates identity and how difference allows for exploitation and consumption. I examine the complexity of what it means to portray a subject or an object, and critique historical nude painting through a subversion of the figure. My work manifests as hybrids of painting and sculpture, feeding on the middle ground and removing the urge to create binaries. I'm attracted to a collage aesthetic, as it allows for the healing of a violent fragmentation. Using both traditional folk and fine art materials, I consider hierarchies of materials and question gendered ideas of nature and culture."
Suzy González received her MFA from the Rhode Island School of Design and her BFA from Texas State University. She has attended residencies at Vermont Studio Center, the Trelex Residency at the Tambopata Research Center in Peru, The Wassaic Residency, and most recently, the Studios at MASS MoCA. Her latest exhibitions include Nepantla: Spaces of Transformation at Galeria E.V.A. in San Antonio, TX, the 6th Chicana/o Biennial at MACLA in San Jose, CA, and she has an upcoming exhibit, The Art of the Animal, at the Animal Museum in Los Angeles. Recent publications include The Art of the Animal: Fourteen Women Artists Explore the Sexual Politics of Meat and Studio Visit Magazine: Volume thirty-four. She currently lives and works in San Antonio, TX.
Menchaca states,
"I am invested in the creation of a digital codex that recounts, collects, and connects world histories. At present, the focus of my work is largely based on tensions surrounding U.S. race relations, especially the southwest region. I attempt to diagnose symptoms of racism through invented mythology and a vocabulary comprised of semiotics, iconography, and symbology. The ideographic manuscripts of Pre-Columbian civilizations provide an historical precedent for my particular icons. Akin to a Pre-Hispanic codex, I present visual metaphors figuratively and integrate textual, symbolic imagery that allow for multiple reads. I use digital tools as a means of interconnecting ancient figuration with contemporary symbolism and interweave images of Catholicism, Pre-Columbian iconography, Migration, Human Rights Violations, European colonization, US Civil Rights Movements, Social media, and news reports. Through this exploration I hope to generate an abstract volume for Chicano narrative and re-evaluate the Pre-Columbian codex module."
Michael Menchaca earned his MFA from the Rhode Island School of Design in 2015 with a concentration in Printmaking. His work has been featured at a number of museums and institutions including: The Contemporary Austin-Laguna Gloria, Austin, TX; The Crystal Bridges Museum of Art, Bentonville, AR; Gilcrease Museum; Tulsa, OK; RISD Museum, Providence, RI; and the International Print Center New York, New York, NY. He has attended artist residencies at the Skowhegan School of Painting and Sculpture, Vermont Studio Center, the Wassaic Project and was a '15-'16 Fellow at the Fine Arts Work Center in Provincetown, MA. He currently lives and works in San Antonio, TX.
The artists' residency and exhibition are partially funded by Counterproof Press and a UConn Academic Plan Grant.