March 28 – May 5, 2017
The Contemporary Art Galleries will present an exhibition of artworks including paintings by New York based artists Laura Newman. Prior to the artists' reception, Newman will present a public talk on her artwork at 4pm in UConn's Art Building. This event is open to the public, and free of charge.
Newman states,
"In my recent paintings, architectural structures serve as containers for space. My paintings fold together a variety of approaches to form-among them hard-edged geometrical shapes, loose gestural forms arrived at through the actual process of painting, and representational references. The imagery in my work is poised between building sites and urban ruins, structures and deconstruction. Brushstrokes form structures that frame geometric paintings, embedded windows and fragments of views."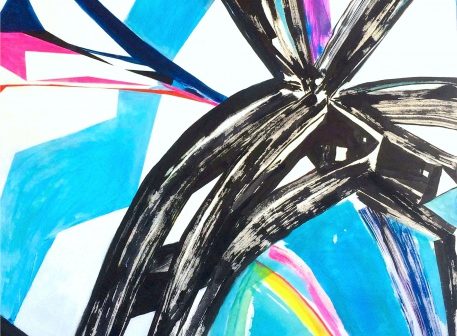 Laura Newman is an abstract painter who lives and works in Brooklyn. In 2016 her work was included in Machines of Paint and Other Materials, 72 Front Street, Brooklyn; Conference of the Birds, Shirley Fiterman Art Center, New York; Surface Two, curated by Renee Ricardo, Arena, Brooklyn; and Inside Out, Art 101, Brooklyn. She has had solo shows at Jen Bekman Gallery, 1 GAP Gallery, The Nova Scotia College of Art and Design University, Lesley Heller Workspace, Bellwether Gallery and Victoria Munroe Gallery. Her work has been included in group exhibitions at Brian Morris Gallery, Fordham University, Lesley Heller Workspace, The National Academy of Art, The Weatherspoon Museum of Art, The New Museum and many others.
Publications include a catalog from NSCAD University with essays by John Yau and Amy Sillman, and reviews in The Brooklyn Rail, Artforum Magazine, The New York Times, and Bomb Magazine.
She has received fellowships and awards from Yaddo, The American Academy in Rome, the John Simon Guggenheim Foundation, The American Academy of Arts and Letters, MacDowell Colony and The New York Foundation on the Arts.
Born in Cleveland, Ohio, and educated at Cooper Union, the California Institute of the Arts, and the Nova Scotia College of Art and Design, she is an Associate Professor in the Art Department at Vassar College.