September 14 – December 4, 2015
"Most paintings, the instant you see them, they become familiar and then it's too late"
William Gaddis, The Recognitions 1955
The Nine Artists
Julia Dault
Liza Lou
Jason Middlebrook
Donald Moffett
Dianna Molzan
Guillermo Pfaff
Zak Prekop
Cordy Ryman
Mika Tajima
Curated by Barry A. Rosenberg
In this CAG exhibition featuring nine international artists who approach painting as a generative process open to redefining materials and handling of the traditional pictorial plane. PAINTING @ THE VERY EDGE OF ART reconsiders the boundaries of the discipline questioning what it means to create works that reference the painting practice at this contemporary moment. The word "Edge" in CAG's title is loaded with a range of implications, only some of which concern a physical location. Timeliness, materials employed and the development of new boundaries are, in fact, at the heart of CAG's curatorial choices.
This show features a varied group of hybrid paintings that when seen together suggest a noteworthy shift from years of academic narration and figuration to a discernable love affair with abstraction has taken place. These artists embrace the traditional four-corner canvas with its flat two-dimensional surface as a reference to early European modernism's lineage, and mid-century's Minimalism, Op-Art and Color-Field while projecting that something new and exciting is at play.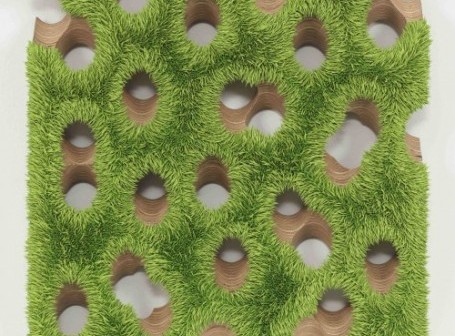 Julia Dault's playful art follows her own strict rules that reveal the processes of their own creation. Her abstract paintings explore the concept of artistic labor through repeating or mechanically reproducing her gestures. Similarly, the compositional elements of her paintings coexist with those produced industrially. She is fascinated with patterns, and with the slippages and imperfections that reveal the human origins of what appears mechanical. By devising expressive gestures through rules and reasoning indicative of post-minimal and conceptual art, Dault is part of a generation of artists revitalizing abstract painting today.
Liza Lou who divides her time between studios in Los Angeles and the province of KwaZulu-Natal, South Africa, explores the surface commonly accepted as the ground for art – the canvas – making it into the subject of the work. At first glance, her works appear to be paintings, and indeed they follow the prescription for painting in that they are woven material stretched across frames. On closer examination, color and gesture do not exist on the surface but are imbedded into the very structure of the canvas itself. Each work is comprised of millions of glass beads woven together to create one unified whole. Lou, works with a Durban collective African women who weave long beaded strips showing no discernible pattern. The artist edits and assembles the individual strips to create a single unified field, which is woven and stretched across steel stretcher bars. The resulting works display a tsunami of color and random pattern that are pixilated but also loosely impressionistic. The artist is a recipient of a $500,000 MacArthur Foundation Fellowship.
Donald Moffett's works are hybrid objects that oscillate between painting and sculpture. Although Moffett may be best known for his AIDS-related activist art from the late '80s and '90s, he has always rigorously explored issues connected to the nature of painting and its changing contexts. Piercing the surfaces of his paintings with voids and covering what remains with monochromatic paint extruded as prickly, highly tactile matter, Moffett conveys in these works an understated violence and implied sexuality.
Moffett has been—and continues to be – persistent and influential presence on the New York art scene. His poetic, provocative, and at times humorous paintings—fearlessly address issues that resonate today such as the rights of openly gay men and women to serve in the military, the aesthetics of gay subcultures, and the rampant scandals that mar our political landscape.
Jason Middlebrook is known for his exploration od the complex relationship between man and nature in his sculptures, installations, paintings, and large-scale drawings. Middlebrook's interest in the state of the environment has been articulated in work that addresses the effects of human intervention in a range of landscapes, from the taming of the suburban yard to the building of the Alaskan Pipeline. References to the history of art and art-making are always present in Middlebrook's work. Fascinated by how trees are records of history, he started painting on knobby pieces of timber, sliced (mostly lengthwise) from locally sourced trunks. The results, Middlebrook notes, "create a tension between something organic and something man-made." His work has been exhibited at the New Museum, New York, NY; Whitney Museum of American Art, New York, NY; MASS MoCA, North Adams, MA; Museum of Contemporary Art Chicago, Chicago, IL and many more institutions. He was the recipient of The Joan Mitchell Foundation Grant and a Pollock-Krasner Foundation Grant.
Guillermo Pfaff's abstractions are distinct in their revelation. For Inside-Out, the artist presents bleached linen stretched over wooden bars painted in varying colors. Each translucent canvas floats above its support system, which is subdivided by precise and narrow swaths of color, both vibrant and muted. The results are paintings that seem to question their own nature: each painting doubles as a visual description of a painting. "There is nothing hidden in my work," says Pfaff. "My paintings show all of what they are." And what they are is simply wood, enamel, linen and bleach. Guillermo Pfaff was born in Barcelona where he now lives.
Zak Prekop's paintings are notable for their levels of refinement, interiority and sincerity. In his canvases, the artist conjures an intimate experience for the viewer. Diagetic, almost invisible marks reveal themselves only when viewed at certain angles while the quality of the artist's lines feel introspective and meandering. Reinvesting seriousness and the personal into tropes of abstraction, Prekop creates a new form of subdued and cerebral non-representational painting. The artist's raw canvas works explore the materiality and mimetic the nature of painting and art production. Using cut-out shapes and the opacity of his work surface to create a sense of dimension on his canvases, his formal and fluid ethereality creates challenging paintings with such a deft, light touch that they are often barely discernible.
Underlying Cordy Ryman's "dumpster aesthetic" lies the unbridled freedom that Cubism awarded its participants. Ryman "a rigorous formalist whose work gathers energy through its subversion of the rigors of formalism." He gathers up his delimited toolkit of colors and shapes and then goes at it. Anything can happen because each element is so thoroughly understood. The questioning whether these are paintings or sculptures is beside the point. They invariably bump out into real space, incorporating the effects of light (reflections, shadows) as integral to their concept, and often manipulate the architecture of the room.
Mika Tajima In Mika Tajima's Negative Entropy woven portraits, she records production sounds from several manufacturing factories, transmutes the sounds into digital image files, and physically translates the records by a weaving designer into a Jacquard fabric. The final woven textiles were stretched over custom acoustic panels
to function as sound deadening tiles, the same type used in recording studios to isolate sounds made by individual performers. The looms inscribe their own death, producing a mute visualization of vacant factories and the ascendant industry of immaterial abstractions. These works are simultaneously images and material records of their own production. The subjects are aging factories using industrial textile Jacquard looms (a precursor to digital technology) and server colocation centers that comprise today's cloud computing infrastructure.

Dianna Molzan's canvases engage in an open and unpredictable dialogue with the history of abstract painting. She uses a variety of material, differing in approach from one work to the next, each painting exhibiting a subtle precision in its intention and execution. Her work explores the range of possibilities within painting's inherent limitations, addressing the fundamental structures of the medium. Although she works with traditional materials, such as oil on linen, she approaches her canvases irreverently, invoking elements of fashion, the decorative arts, ceramics, and design. Molzan's practice engages both a range of possibilities both within the physical rearrangement of the canvas and through a more painterly interest in popular historical styles and motifs.